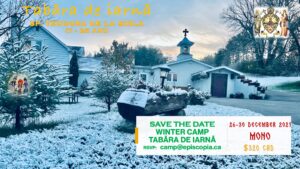 The Romanian Orthodox Diocese of Canada organizes
the Winter Camp St. Theodora of Sihla
between 26th and 30st December 2021
Reverend Fathers,
The winter camp of our Diocese in Ontario (Mono) area will continue this year with the activities dear to the youth. There are few weeks before the start. Kindly, I ask you to encourage the youngest of your parishes to take part in this spiritual and Christian training and educational event.
Here are some of the activities that will take place:
morning and evening prayers
catechesis, conferences and discussions related to the Holy Sacraments, the importance of young people and children in the Church
icons painting, drawing, history and geography of Romania
campfire
winter sports
walking in the woods
many other games, sports activities
The camp price is 320 CAD for children coming from parishes of the Romanian Orthodox Diocese of Canada and 350 CAD for others. In this price are included accommodation, 3 meals a day, snacks between meals and materials used in the activities performed.
For registration contact: Carmen Ognean // tel: (519) 551 0067; email: [email protected]