ROYA  congress
November 19-22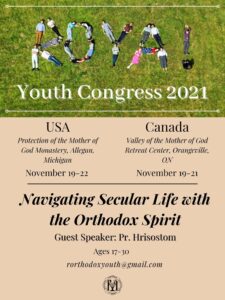 ROYA  congress is quickly approaching and registration is still open(last day for Canada Nov. 8th 2021)! There will be a Canadian retreat held at our Exaltation of the Holy Cross and St. Ephraim the New Orthodox Monastery, Mono (sleeping arrangements will be made at Valley of the Mother of God Retreat Center, Orangeville, Ontario)
and an American retreat held in Michigan.
**Please note tomorrow, November 8th is the last day to register for the Canadian retreat so sign up while you can!
Please see the registration links below: