Pilgrims with St. Nektarios of Aegina the Wonderworker at the Holy Cross Orthodox Monastery and St. Ephraim the New  – Mono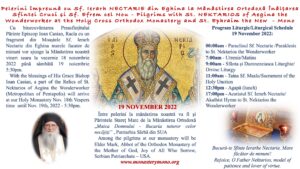 SAVE THE DATE: NOVEMBER 19TH, 2022

 With the blessings of His Grace Bishop Ioan Casian, a part of the Relics of St. Nektarios of Aegina the Wonderworker (Metropolitan of Pentapolis) will arrive at our Holy Monastery Nov. 18th Vespers time  until Nov. 19th, 2022 – 5:30pm.

Liturgical Schedule  19 November 2022:  
00:00am -Paraklesis to St. Nektarios the Wonderworker
7:00am – Matins
9:00am –  Divine Liturgy
11:00am – Sacrament of the Holy Unction
12:30pm – Agapă (lunch)
17:00pm – Akathist Hymn to St. Nektarios the Wonderworker
Rejoice, O Father Nektarios, model of patience and lover of virtue.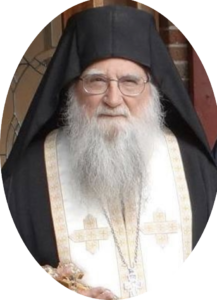 Among the pilgrims at our monastery will be Elder Mark, Abbot of the Orthodox Monastery of the Mother of God, Joy of All Who Sorrow, Serbian Patriarchate – USA.
Prayerfully yours in Christ's service,
Hieromonk Polycarp
Mono – Oct. 27th, 2022
 We have daily Divine Liturgy
Prayer request
(daily/
40 days /or yearly
)
—-
"Sfânta rugăciune este mama tuturor faptelor bune" – Arhim. Cleopa Ilie 
Mănăstirea Ortodoxă Înălțarea Sfintei Cruci și Sf. Efrem cel Nou
The Orthodox Monastery Exaltation of the Holy Cross and St. Ephraim the New
308328 Hockley Rd., Mono
Orangeville, Ontario L9W 6N4
C. (226)200-1074
T. (519) 942-3489
New Website: www.monasterymono.org
Join our Facebook page:  https://www.facebook.com/OrthodoxMonasteryMono/
Episcopia Ortodoxă Româna a Canadei
The Romanian Orthodox Diocese of Canada    
The Orthodox Monastery "Holy Cross" is under the spiritual and ecclesiastical authority (omofor) of His Grace, Bishop Ioan Casian, of The Romanian Orthodox Diocese of Canada.