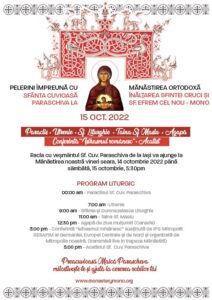 Pilgrims with St. Venerable Paraschiva of Jassy at the Holy Cross Orthodox Monastery and St. Ephraim the New  – Mono
15 OCTOBER 2022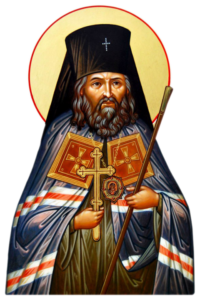 With the blessings of His Grace Bishop Ioan Casian, the entire Holy Vestments of St. Venerable Paraschiva of Jassy and a part of Relics of St. John Maximovitch (Archbishop of Shanghai and San Francisco) will arrive at our Holy Monastery Oct. 14th  until Oct. 15th, 2022 5:30pm.
Program Liturgic/Liturgical Schedule 15 Octombrie 2022:
00:00am – Paraklesis to Most Venerable Mother Parasckeve of Jassy and St. John Maximovitch of San Francisco
7:00am – Matins
9:00am – Divine Liturgy
11:00am – Sacrament of the Holy Unction
12:30pm – Thanksgiving meal
3:00pm – Conference "the Romanian Hesychaste" by HE Metropolitan SERAFIM, organized by our Metropolia. (via online, broadcasted LIVE in the monastery trapeza).
 5:00pm – Akathist Hymn to our Most Venerable Mother Parasckeve of Jassy
Most Venerable Mother Parasckeve and St. John, pray for us!
Întru Iisus Hristos Domnul nostru,
Ieromonah Policarp
3 octombrie 2022
Programul Liturgic  / Liturgical schedule
Aprindeți o lumânare / Light a candle
Mulțumim și pe această cale tuturor pelerinilor care au sponsorizat cele necesare pentru Agapă! 
——
"Sfânta rugăciune este mama tuturor faptelor bune" – Arhim. Cleopa Ilie 
Mănăstirea Ortodoxă Înălțarea Sfintei Cruci și Sf. Efrem cel Nou
The Orthodox Monastery Exaltation of the Holy Cross and St. Ephraim the New
308328 Hockley Rd., Mono
Orangeville, Ontario L9W 6N4
(226) 200-1074
(519) 942-3489
New Website: www.monasterymono.org
Join our Facebook page:  https://www.facebook.com/OrthodoxMonasteryMono/
Episcopia Ortodoxă Româna a Canadei
The Romanian Orthodox Diocese of Canada    
The Orthodox Monastery "Holy Cross" is under the spiritual and ecclesiastical authority (omofor) of His Grace, Bishop Ioan Casian, of The Romanian Orthodox Diocese of Canada.