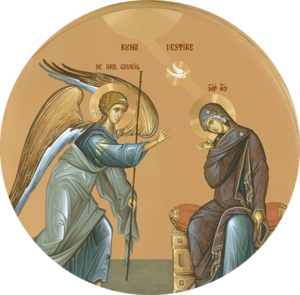 Praznic binecuvânta/Blessed feast day!
25 MARTIE/MARCH 2023 
8:30AM – Utrenie/Matin
10:30AM – Dumnezeiasca Liturghie/Divine Liturgy
12:00PM – Agapă/Fellowship Lunch
( în cinstea praznicului Bunei Vestiri/in honor of the Annunciation of our Most Holy Lady, the Mother of God and Ever-Virgin Mary)
BINECUVINTEAZĂ DOAMNE TOATE MAMELE CREȘTINE!
BLESS O LORD ALL THE CHRISTIAN MOTHERS!
                            Mulțumim și pe această cale tuturor pelerinilor care au sponsorizat cele necesare pentru Agapă în cinstea familiei sau în memoria celor dragi.
—
Prayerfully yours in Christ's service,
Întru Hristos Domnul,
Fr. Hieromonk Polycarp