Building for the present and the future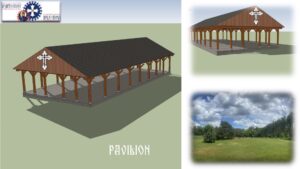 Letter of exhortation and joy
Building for the present and the future
Beloved friends of the Monastery,
By the mercy of God, with great joy we are announcing that we have received all the approvals from the city to start construction of the Pavilion, a multifunctional building that we will be able to use during Spring, Summer and Fall. Until we build a larger church, the monastery will use the chapel and also the Pavilion to conduct its Holy Liturgical Services throughout the year.
Please keep this important project in your prayers and thoughts. Thank you very much for your generous ongoing financial support of our monastery.
May the blessings of the Lord be ever upon our Holy Monastery and all its donors and benefactors.
"God bless the works that are carried out in this holy and venerable monastery for the glory of God and may they be successfully completed, with the grace and the work of the Holy Spirit, let us pray to the Lord".
Prayerfully yours in Christ's service
Hieromonk Polycarp
Mono – January 22, 2023
The Day of bringing the Icon of the Mother of God "Stareța" (Gherontissa) to the Orthodox Monastery of the Exaltation of the Holy Cross and St. Ephrem the New from Mono
INVITATION to save the dates in 2023:
– 29 April 2023 – Annual Spring Pilgrimage Day (St. Ephraim the New)
– 22 July 2023 – Annual Summer Pilgrimage Day in honor of our Mother of God
– 16 September 2023 – Annual Fall Pilgrimage Day
—
Mănăstirea Ortodoxă Înălțarea Sfintei Cruci și Sf. Efrem cel Nou
The Orthodox Monastery Exaltation of the Holy Cross and St. Ephraim the New
308328 Hockley Rd., Mono
Orangeville, Ontario L9W 6N4
Programul Liturgic / Liturgical schedule
Aprindeți o lumânare zilnic / Light a candle daily
Cell: 226.200.1074
(519) 942-3489
New Website: www.monasterymono.org
Join our Facebook page:  https://www.facebook.com/OrthodoxMonasteryMono/
Episcopia Ortodoxă Româna a Canadei / The Romanian Orthodox Diocese of Canada    
The Orthodox Monastery "Holy Cross" is under the spiritual and ecclesiastical authority (omofor) of His Grace, Bishop Ioan Casian, of The Romanian Orthodox Diocese of Canada.
Mitropolia Ortodoxă Română a celor două Americi / The Romanian Orthodox Metropolia of the Americas