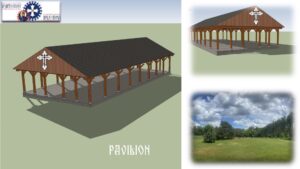 Rejoice in the Lord!
Giving Tuesday is Here – Please consider supporting the building of our new multifunctional pavilion where we will also conduct our Holy Liturgical services during spring, summer and fall.
Today is Giving Tuesday,
a day when people around the world show support for
non-profit organizations.
Please click the button below and make a donation today.
Whether you give $5 or $500,
you will help us expand the monastery and
continue to provide pilgrimages and spiritual counsel
to all who come to us.
To all who have and will step forward, extending yourself in support of the monastery, we offer our sincerest gratitude along with
praying for every donor during the next 40 days.
Please continue to keep this important project in your prayers and thoughts.