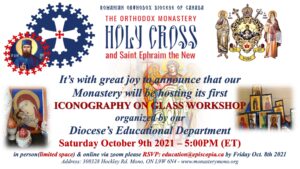 Beloved pilgrims in Christ our Lord,
Christ is in our midst!
It's with great joy to announce that with the blessing of HG Bishop Ioan Casian, our Monastery will be hosting its first  ICONOGRAPHY ON GLASS WORKSHOP organized by our Diocese's Educational Department
When: Saturday October 9th 2021
Time: 5:00PM (ET)
The workshop will be in person (limited space) & also online via zoom please RSVP: [email protected] by Friday Oct. 8th 2021
Address: 308328 Hockley Rd. Mono, ON L9W 6N4 – www.monasterymono.org
He is and ever shall be!
Fr. Rasophoros Policarp